Generative AI Market Growth in France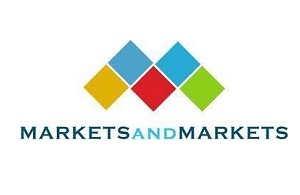 To analyze the opportunities in the market for stakeholders by identifying the high-growth segments of the Large Language Model market and overall generative AI market
Generative AI Market by Offering (Software (Transformer Models (GPT-1, GPT-2, GPT-3, GPT-4, LaMDA)), Services), Application (Data Modality (Text, Image, Video), Business Function (Marketing & Sales, Finance)), Vertical and Region – Global Forecast to 2030
Growing uptake of Generative AI solutions in healthcare augmenting market growth
The Generative AI Market in France is experiencing significant growth, driven by several key factors. One of the primary drivers is the country's strong focus on research and innovation. France has a rich tradition of scientific discovery, and this ethos has extended into the field of Generative AI. French companies have been at the forefront of utilizing GPT-3 for content generation, chatbots, and customer service. The model's ability to generate human-like text and its multilingual capabilities make it particularly valuable in a nation that values its cultural and linguistic diversity.
Download PDF Brochure @ https://www.marketsandmarkets.com/pdfdownloadNew.asp?id=142870584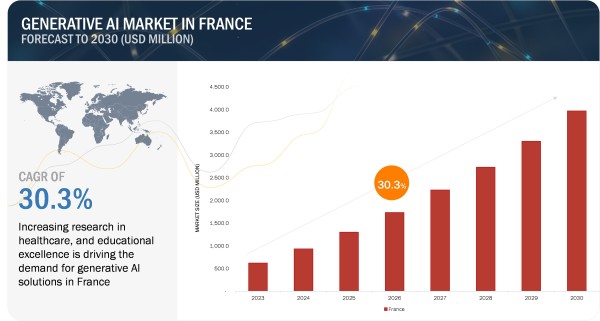 Source: Interviews with Experts, Whitepapers, MarketsandMarkets Analysis
France is making substantial investments in open-source AI, with plans to become a hub for AI development in Europe. French Government's investments of USD 40 million for native AI projects and USD 500 million for AI research and development highlights the country's ambitions. This initiative intersects with two significant global AI trends: Europe's emerging role in AI leadership and the rise of open-source AI. France aims to create influential global players in the field. This move is crucial as it positions France to lead in AI regulation in the European Union and worldwide. Mistral AI's substantial seed funding further underscores France's commitment to this endeavor.
Request Sample Pages @ https://www.marketsandmarkets.com/requestsampleNew.asp?id=142870584
Generative AI plays a crucial role in France's technological landscape, with significant implications for various sectors. The country recognizes the potential of AI in addressing societal challenges and enhancing economic competitiveness. Notably, Generative AI is contributing to France's efforts in healthcare, where it is being used for medical image analysis, drug discovery, and personalized treatment recommendations. French startups like Owkin are harnessing Generative AI for predictive modeling in healthcare, facilitating faster and more accurate clinical research.
In addition to healthcare, the media and creative industries in France have embraced Generative AI. Creative agencies and media companies utilize AI algorithms to automate content production, such as generating articles, videos, and even art. This has led to efficiency gains and the ability to scale content creation, supporting the country's cultural and artistic heritage. The media and creative industries leverage Generative AI for content creation and curation. AI algorithms are used to generate articles, videos, and other forms of media. This is exemplified by startups like Sudowrite, which utilizes AI to assist writers and content creators in generating high-quality written content.
French businesses are also making use of Generative AI to enhance customer service. AI-driven chatbots and virtual assistants are becoming increasingly prevalent, providing efficient and personalized interactions with customers. This trend is exemplified by companies like iAdvize, which offers conversational AI solutions for customer engagement.
Inquire Before Buying @ https://www.marketsandmarkets.com/Enquiry_Before_BuyingNew.asp?id=142870584
The Generative AI market in France is competitive, with established players and startups vying for market share. New entrants should consider a strategic approach to establish themselves in this growing market: Focusing on a particular industry or application can be a successful strategy. Developing specialized Generative AI solutions tailored to specific verticals, such as healthcare or manufacturing, can help new players carve out a niche. Adapting AI models and solutions to the French language and culture is essential. It ensures that the technology resonates with local users and adheres to language-specific nuances.
Media Contact
Company Name: MarketsandMarkets™ Research Private Ltd.
Contact Person: Mr. Aashish Mehra
Email: Send Email
Phone: 18886006441
Address:630 Dundee Road Suite 430
City: Northbrook
State: IL 60062
Country: United States
Website: https://www.marketsandmarkets.com/Market-Reports/generative-ai-market-142870584.html