Alexy Goldstein and New U Life Company Transforming Sleep and Wellness with Innovative Solutions
Alexy Goldstein and New U Life Company are at the forefront of pioneering innovations in natural growth hormone and wellness, driven by a profound commitment to holistic well-being.
Alexy Goldstein and New U Life, the renowned Hormone Health Company™, is proud to introduce a groundbreaking product that promises to revolutionize the way we approach rest and rejuvenation. SomaNight®, the latest addition to New U Life's innovative line-up, features an advanced Tri-Collagen Nano Peptide Matrix designed to optimize sleep, maintain sleep cycles, and regulate the production of essential hormones during sleep. This pioneering approach doesn't just promote a good night's sleep; it offers a comprehensive range of benefits that challenge the way you age.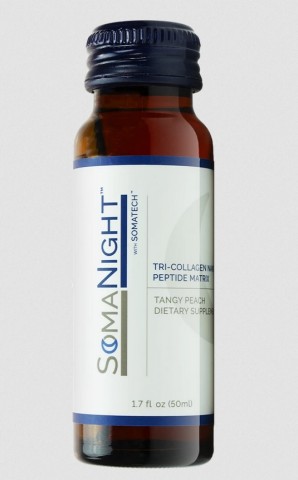 SomaNight leverages the power of science and the wonders of nature, using a proprietary blend of SomaTech® ingredients to unlock the full potential of the hormones. It emphasizes the production of Insulin-like Growth Factor 1 (IGF-1) and the utilization of Human Growth Hormone (HGH) for enhanced cellular recovery, improved sleep quality, and age-defying effects.
Some of the notable benefits of SomaNight include:
Stimulating natural IGF-1 production: By promoting the production of IGF-1, SomaNight encourages cellular rejuvenation and overall vitality.
Enhancing healthy HGH utilization: SomaNight optimizes the use of HGH for better sleep, muscle recovery, and overall well-being.
Promoting hormone production during sleep: The product helps regulate hormone production during sleep, contributing to a more balanced and restful night.
Supporting sleep-specific hormone synthesis: SomaNight supports the synthesis of hormones specifically related to sleep, ensuring a deep and restorative slumber.
Reducing wrinkles from within: This innovative solution works from the inside out to reduce the appearance of wrinkles, giving a more youthful look.
Amplifying skin's collagen content: SomaNight enhances collagen production in the skin, leading to improved firmness, hydration, and elasticity.
Enhancing and safeguarding skin's hydration, firmness, and elasticity: The product ensures the skin remains hydrated, firm, and elastic, promoting a youthful appearance.
Promoting healthy hair, nails, and skin: SomaNight contributes to healthy hair, nails, and skin, enhancing the overall appearance.
Supporting joint mobility and lubrication: It helps improve joint mobility and reduces discomfort, making it an ideal solution for those with joint issues.
Diminishing joint discomfort: SomaNight is effective in reducing joint discomfort, enhancing the overall quality of life.
Enhancing muscle tone and recovery: For fitness enthusiasts, this product supports muscle tone and helps with post-exercise recovery.
Nurturing healthy tendons, joints, muscles, and ligaments: It ensures the health of the musculoskeletal system, keeping agile and active.
Upholding supports cardiovascular function: SomaNight even supports cardiovascular health for a more holistic approach to well-being.
SomaNight represents the culmination of cutting-edge research and science. The combination of the SomaTech proprietary blend, the FCM4™ Fortified Tri-Collagen Nano Peptide Matrix, and the Rest and Recovery Matrix™ offers a holistic approach to not only achieving a youthful exterior but revitalizing the entire body.
Alexy Goldstein's journey began with taking over his family's business and cultivating a passion for high-quality products, leading to his development of Natural Life Foods™, Strike First Nutrition(R) and Arrive Nutrition™, with his standout achievement being SomaDerm®, the first and best-selling transdermal homeopathic gel for supporting increasing growth hormone naturally. New U Life continues to create products that harmonize science and nature to enhance well-being and challenge the way you age.
About New U Life:
New U Life is a pioneering Hormone Health company dedicated to providing innovative solutions that enhance overall well-being. With a commitment to combining science and nature, New U Life's products are designed to optimize hormonal balance, support restful sleep, and promote a more youthful, vibrant life. Alexy Goldstein, the company's Founder and CEO, is a visionary in the field of natural health products and has a proven track record of creating industry-leading solutions.
For more information about SomaNight®, Alexy Goldstein, and New U Life, please visit www.newulife.com/SomaNight or contact:
Media Contact
Company Name: New U Life Corporation
Contact Person: Shawn Spainhour, Vice President of Marketing
Email: [email protected]
Country: United States
Website: www.newulife.com
Media Contact
Company Name: New U Life Corporation
Contact Person: Shawn Spainhour, Vice President of Marketing
Email: Send Email
Country: United States
Website: www.newulife.com