Yoana Umbrella Manufacturer invites everyone to join them at the 133rd Canton Fair
Yoana Umbrella Manufacturer will participate in the PHASE 2 Household booth and the PHASE 3 Suitcase and Bag booth of the 133rd Canton Fair separately from April 23 to 27, and May 1 to 5. At that time, Yoana will bring a new series of umbrella products to meet you.
Wang Xiangpeng, General manager of Yoana Umbrella Manufacturer, invites you to meet for the Canton Fair :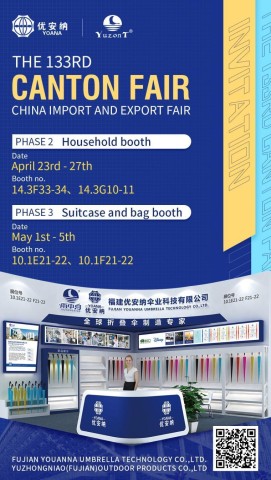 Founded in 1991, Yoana Umbrella Manufacturer is located in Dongshi, "the umbrella capital of China", covers an area of 80,000 square meters, and with nearly 1,000 employees. Yoana Umbrella has 32 years of experience in the umbrella industry, focusing on OEM and ODM, providing a whole solution from r&d to product,display, packaging, etc. In addition, the company has invested more than 40 million yuan in research and development and accumulated more than 160 patented technologies and scientific research achievements.
Yoana Umbrella has set up a number of overseas manufacturing plants and more than 20 sales networks around the world, the products are exported to Italy, Russia, the United States and 50 other countries.
Yoana umbrella industry has the advantages of the whole industry chain from metal, plastic, and frame, to finished umbrella; so that product quality and production cycle can be well guaranteed. As a state-level specialized and innovative enterprise and state-level green factory, Yoana Umbrella Industry actively explores the aspects of green manufacturing, such as safety, environmental protection, and energy saving. It continuously improves the level of green manufacturing, product research and development, and customer service through equipment transformation.
Yoana sincerely invites everyone coming to our booth and looks forward to having a discussion together.
For more details contact Wang Xiangpeng at [email protected], phone: +86-13615950422 or whatsapp 008613615950422.
Media Contact
Company Name: Fujian Youanna Umbrella Technology Co., Ltd.
Contact Person: Wang Xiangpeng
Email: Send Email
Phone: +86-13615950422
Country: China
Website: yoana-umbrella.com