Crowdfunding Platform, Alpha, Launched To Bring Utility NFTs Towards Mass Adoption
Alpha is a startup focused on providing a secure crowdfunding platform for businesses, events, clubs, and more – powered by NFTs.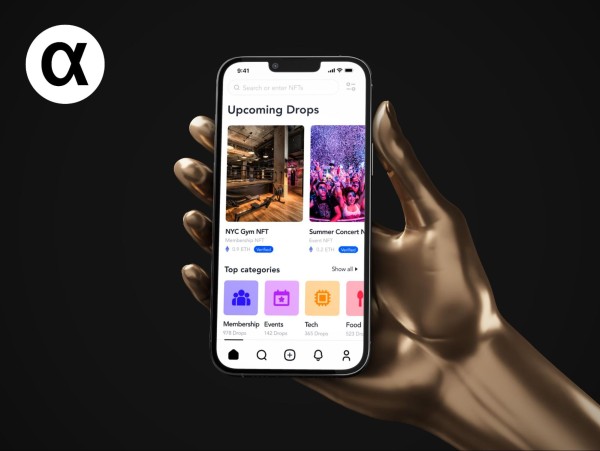 Alpha announced its waitlist for the launch of its new NFT crowdfunding platform. Alpha's goal is to allow NFT project creators to build utility NFT sets in minutes with audited smart contracts and community management resources. For project backers, Alpha aims to add a layer of trust by aggregating primary market NFT projects into one secure and reliable platform with pre-vetted teams. Alongside their crowdfunding platform, Alpha is on a mission to build a powerful community of Web3 enthusiasts, collectors, and builders with the sale of their first NFT set, Project Alpha NFT, which grants holders early access to Alpha's platform.
Alpha wants to allow creators to bypass the lengthy time it takes to create a smart contract by providing an easily customizable landing page where backers can directly mint from. By allowing creators to enter a few short details about their project (such as their community wallet address, project description, perks for backers, and NFT images), they will be able to focus solely on community building and their project's utility.
Alpha will help backers of projects mint and keep accountability in a more secure way than current solutions. Backers will be able to securely connect their wallets to Alpha, search/filter projects, and mint. The focus of Alpha's platform will be to showcase projects that have real-world utility and pre-vetted teams.
"By starting a project with Alpha, it will give you the same amount of visibility that you would get with traditional crowdfunding sites in Web2, but with the power of community in Web3 – which helps you find problem-solution fit much quicker than ever before. For backers, instead of the classic "donate and wait" model, popularized by sites such as Kickstarter, holders will be able to exert influence and value for the projects they help fund as well as trade their utility before, during, or after it is created via an NFT on the secondary market," said Erick Graciano, CEO and Founder of Alpha.
There are an estimated 7 million monthly active Ethereum addresses today, and that number is expected to reach 1 billion by 2031. For entrepreneurs, this has come as a new opportunity to reach customers and engage with their community before building projects. Crowdfunding using cryptocurrency has been touted for its greater cost efficiency, better transparency, and greater accessibility than traditional sources. The NFT market is currently projected to be over $35 billion in 2022 and to be over $80 Billion by 2025. Alpha is in the perfect position to facilitate this rise in NFTs, and help creators provide valuable, community-driven utility to consumers.
"The vision for Alpha is to evolve the crowdfunding space. NFTs and blockchain technology allow us to now have more transparency and ease when backing and creating projects. We are still very early in the space, but our goal is to provide the infrastructure and resources needed to jumpstart and support communities, clubs, and businesses of the future," said Graciano.
For more information, visit:
Website: https://joinalpha.xyz
Discord: https://discord.gg/qM4HYNpfer
Twitter: https://twitter.com/ProjectAlphaETH
About Alpha
Alpha is a crowdfunding platform, on a mission to bring utility NFT projects to mainstream adoption. Creators focus on their idea and Alpha handles the rest.
Media Contact
Company Name: Alpha Collective Inc
Contact Person: Erick Graciano
Email: Send Email
City: San Francisco
State: California
Country: United States
Website: joinalpha.xyz